I have lived in Cincinnati for 33 years. If you are a football fan and do the math then you know that this past year was both significant and exhilarating for my city. Our home team, the Cincinnati Bengals, pushed past talks of curses and doubts from skeptics to make it to the Super Bowl again, for the first time since 1989. Even if you're not a huge football fan you can feel the magnitude of that accomplishment. By now, you probably also know that the ultimate goal of winning our first Super Bowl didn't happen. As much as that stings, I witnessed something over the past few weeks that gave me a reason to believe, not just in a football team but in the power of momentum and belief in the possibility of living a different story when people are united towards a common purpose and against a common threat. 
What I also witnessed was the power of a shared experience. Being in a moment of significance with people you had not previously met where emotions are high and hearts are stirred up for the same reason is so meaningful and has the potential to be truly transformative.
When you experience people physically showing up, standing side by side with you, fighting and rooting for what is good and against what is not, it matters. When you can look into the eyes of someone and within seconds feel their pain without even knowing their name because you are experiencing that moment together, it matters. This is what I experienced when I participated in the Southern Justice Experience. And, though the comparison to a sporting event might seem odd, I believe the parallels help to illustrate the importance and value of sharing an experience together. 
On the Southern Justice Experience trip, as we moved to and from each historic site it was a beautiful thing to be able to step into side-bar conversations with others as we reflected on what we had just heard, seen, or taken in. We were experiencing these physical spaces of significance together and that allowed for in-the-moment processing to organically take place.
And then, the Legacy Museum happened. I knew I would be moved but I did not anticipate how gut-wrenching and soul-wrecking that experience would be for me. I was sobbing, almost uncontrollably for a good five minutes. It felt raw, I felt exposed and I felt the needed comfort of the amazing Black employees who brought me tissue, spoke encouragement, and affirmed the feelings that I was expressing. In full transparency, at that moment, it was really hard to be around those who didn't look like me on that trip. After having an amazing moment of unity walking across the bridge in Selma, this moment felt different. It felt more painfully sacred. But, many beautiful things happened as I continued to emotionally process and feel some distance from the sting I felt when I first entered the museum. I got back on the bus and I hoped that the silence I had stepped into would linger for a while. My white "bus buddy" who I had talked to for much of the ride seemed to sense that I needed some space and could take in and offer just a few words. That response felt like a gift and was an offering of empathy given in the simplest yet meaningful way. 
As we made our way to EJI, the peace that was returning allowed me to engage with new friends as we walked through the display. It was sobering and healing as those conversations with white and BIPOC attendees felt like sweet moments of connection at a time when we were experiencing very painful remembrance markers in our history.
Through this experience, I learned on a deeper level that when you share a moment with someone, you have the opportunity to sit in their pain, which also means sitting in the silence, sitting in the discomfort and being willing to, for a moment…just sit. No attempt to try and solve or fix.  I actually believe that consistent, meaningful and transformative action is preceded by the sitting with, the dwelling in and the stepping into points of pain with others. Those moments of pause together before the doing is essential to the longevity of efforts towards real change. My pain needs to matter to others and be experienced at more than just a head/consumption of knowledge level. Though it may not be wholly understood based on different lived experiences, I believe that being immersed in experiential moments can accelerate empathy which can initiate a catalytic response towards actual change. 
In processing through this trip, I am reminded of a quote I heard recently adapted from… "when we share our pain it gets cut in half, when we share our joy, it doubles." I think this beautifully sums up the possibility of what can happen when we are intentionally proximate to one another. The moment that I lost it I had space to just be, and when the three Black women helped comfort me with their words, their assistance with meeting an important physical need of getting tissue, by reassuring me that what I was feeling was more than okay, that all contributed to my healing. I felt a literal weight get lighter as that in-person physical support stepped in and picked up pieces of my pain. I felt another weight lifted when my bus mate knew that in that moment silence was a better way to honor and hold pieces of my pain. 
One of my favorite verses is 2 Corinthians 2:15 and it sums up this experience well for me: For we are to God the fragrance of Christ among those who are being saved and among those who are perishing. Shared experiences provide you with the opportunity to get a whiff of something sweet. They have the power to unite you in moments of joy and when there are moments of pain there is a comfort made available to you that is also like a sweet aroma. When it comes to the issues of racism and systemic injustice there is a strong stench in the air, but when we get to experience shoulder-to-shoulder moments like the Southern Justice Experience you are afforded the opportunity to receive and share a collective fragrance, one that through memories, reflections and newly-formed relationships is one that has lasting and lingering power. That kind of power can fill the air and shift the atmosphere. And, I am hopeful that the residue of our collective fragrance will linger in the spaces and places we returned to drawing others into this work as we continue moving forward together to write a different story.
__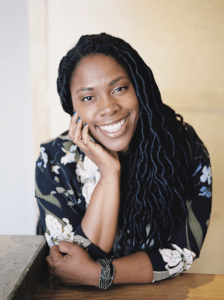 Courtney Walton
Courtney Walton has worked in the non-profit ministry sector for over 14 years and currently serves in the role of Chief Learning Officer for Courageous Love, the movement behind the LivingUNDIVIDED and WorkingUNDIVIDED curricula. Courtney was recognized as an influential female leader receiving the Greater Cincinnati YWCA Rising Star Award. She is a part of the Harvard LIFE Convening cohort. She is a TEDx speaker, Social Impact Global Fellow with MovingWorlds, certified Trauma Competent Care trainer and conference speaker. Courtney received her bachelor's degree in Psychology from Elon University, her master's degree in Women and Gender Studies at the University of Cincinnati and she is currently pursuing her doctorate from Northern Kentucky University in Educational Leadership focusing her dissertation research on examining anticipatory and acculturative stress in Black women and understanding how to mitigate the impact of racialized trauma and racial battle fatigue. Courtney is also a proud aunt, daughter, sister and friend.